MaxSun launches GeForce RTX 4080 and RTX 4070 Ti MegaGamer with five fans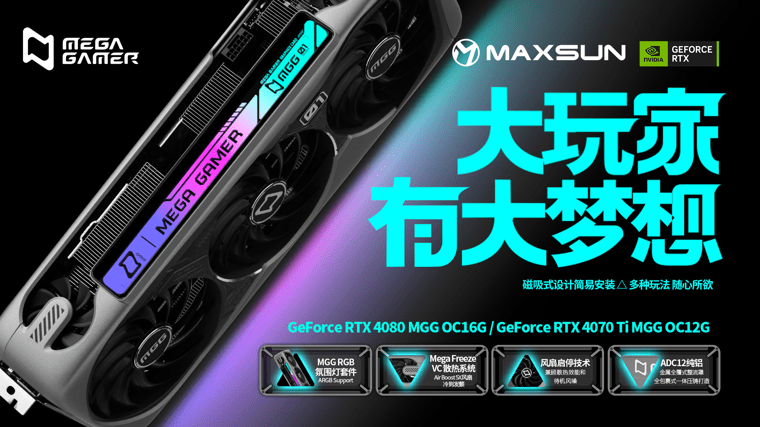 It's time for a new game of graphics cards, and the Chinese company MaxSun has prepared something special for real gamers - GeForce RTX 4080 and RTX 4070 Ti MGG (Mega Gamer) graphics cards with a unique cooling system that breaks all records!
Of course, we know that one fan is the last century, but MaxSun decided to raise the bar even higher - as many as five fans on one card! And forget about additional turntables - this is no longer fashionable. We now have two tiny fans on the top edge that spin next to the detachable ARGB strip. Apparently, MaxSun has decided that bigger is better, even if it means taking the graphics card out of the case.
Coolers blow through the radiator from above, which is an innovation, and hot air is thrown out through holes in the metal case. But the most interesting thing is that the body is made in gray. Because, as we know, the color on the case is what really matters for gaming performance.
MaxSun promises factory overclocking on these cards, but doesn't reveal details about frequencies. We can only guess how high the overclock will be, and how much it will affect energy consumption. But that's not all that important, right?
But, if you expect to know the price of these cards, you will have to wait. MaxSun also believes that this is information that needs to be kept secret, like the secret of a grandmother's pancake recipe.
So if you're looking for a graphics card that can handle any game and you're not afraid to turn your PC into a fan, then MaxSun's GeForce RTX 4080 and RTX 4070 Ti MGG are the perfect choice for you!